Vacation Booking Calendar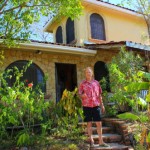 The vacation booking calendar shows the available times for the Loma Del Sol Tropical Cottage. You can book a time or make an enquiry by contacting me directly. This calendar resides on other vacation websites, but the booking availability details are synchronized across sites automatically. This is the main site for the cottage and you'll find the most detail about the cottage or cabina and the surrounding area here.
Don't forget to check out the local activities and my resources page and news updates for more information.
Contact RoyCottage Rental Rates